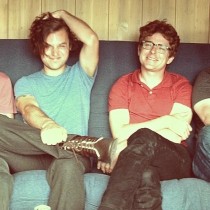 Henry Clay People to Release New Album June 26th
HENRY CLAY PEOPLE SET TO RELEASE NEW ALBUM, 'TWENTY-FIVE FOR THE REST OF OUR LIVES,' ON JUNE 26TH
Los Angeles quartet Henry Clay People are thrilled to announce the release of their new album Twenty-Five for the Rest of Our Lives. Set for a June 26th release on TBD Records, Twenty-Five for the Rest of Our Lives is a thrilling and sweaty thirty minutes of teenage restlessness, quarter-life malaise, and adult resignation. The new album sees not only the return of the band's original line up, but songwriters and brothers Joey and Andy Siara rediscovering and redefining their punky roots, allowing them to craft their most urgent, bratty, and melancholic record to date.
"We wanted to finally make the record that our sixteen year old selves would have been excited about," says Joey. "Unfortunately the only way to do so was to live for the last 13 years and get some adult suffering under our belt. Now we can direct our misguided teenage angst at our failed 20's."
With songs such as the rambunctious The Backseat Of A Cab, the 90's guitar slack of Hide, the skater brat inspired The Fakers and the punk revival of EveryBandWeEverLoved, Twenty-Five for the Rest of Our Lives is a record dealing with
compromised dreams and empty bank accounts, for and by the high school Descendents devotee turned college Malkmus-minion.
In support of their TBD Records debut Somewhere On the Golden Coast, the Henry Clay People spent most of 2010 and 2011 on the road with the Drive by Truckers, Silversun Pickups and Against Me!, along with successful performances at Coachella, Lollapalooza and Austin City Limits. With an enthralling live show, HCP have built a dedicated national following of both critics and kids.
Along with The LA Times, Aquarium Drunkard, MTV News, Paste Magazine, My Old Kentucky Blog, and more, Spin Magazine raves "The Henry Clay People specialize in raggedy power chords, barreling piano, and desperately boyish vocals – what Tom Petty and the Heartbreakers would sound like if they'd taken temp work and listened obsessively to Crazy Horse." KEXP simply says HCP create a "remarkable set of classic- sounding indie-rock with clear echoes of Pavement, the Hold Steady, the Replacements and early Built to Spill, but they find their own voice with detailed songs that split the difference between sardonic and heartfelt when describing the music scene, living in debt and working part-time, transforming everyday subject matter into raging, celebratory anthems for slacker rock 'n' rollers and other folks just trying to make ends meet."
The Henry Clay People will hit the road this summer. Stay tuned for tour dates!!