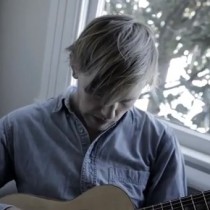 WATERS "Mickey Mantle" Video + Upcoming Tour With Nada Surf
WATERS has launched the music video for "Mickey Mantle" – one of the best + most accessible tracks on their debut record. Watch it here. The video was filmed in stop-motion style in less than 48 hours as part of the San Francisco-based Music Video Race. "Mickey Mantle" won "Best Song" as part of the contest.
The "Mickey Mantle" video has been featured all over the place including Stereogum.
WATERS launches a tour with Nada Surf next week – returning to many of the cities they just hit with Delta Spirit earlier this year.
UPCOMING WATERS TOUR DATES WITH NADA SURF:
06/19 – Lancaster, PA @ Chameleon Club *
06/20 – Pittsburgh, PA @ Club AE *
06/21 – Cleveland, OH @ Beachland Ballroom & Tavern *
06/22 – Ann Arbor, MI @ Blind Pig *
06/23 – Indianapolis, IN @ Deluxe *
06/24 – Louisville, KY @ Headliners *
06/25 – St. Louis, MO @ Old Rock House *
06/27 – Little Rock, AR @ Juanitas *
06/28 – Dallas, TX @ Granada Theater *
06/29 – Austin, TX @ La Zona Rose *
06/30 – Houston, TX @ Fitzgerald's – Upstairs *
07/02 – Birmingham, AL @ Bottletree *
07/03 – Atlanta, GA @ The Loft *
07/05 – Baltimore, MD @ Rams Head Live *
07/18 – San Francisco, CA @ Brick and Mortar (headlining)