TRACK LIST
High Without The Hope
My Will Is Good
Oslo Campfire
In The Meantime
Tree Bones
Sour Milk / Salt Water
Threadbare
Calm Me Down
Leap Year
Next Season
(Darkness Visible)
Love Me Through
High Without The Hope 72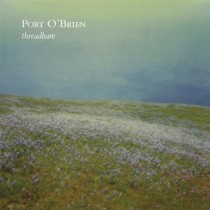 About this album
Port O'Brien is pleased to announce the release of their third album, threadbare on TBD Records.  The coastal California band, which started as a bedroom project of Van Pierszalowski and Cambria Goodwin, has been hard at work since the release of their acclaimed 2008 album, All We Could Do Was Sing, spending the better part of the last two years touring the world.
As 2009 began, the band started to prepare songs for what was to become threadbare.  What started as a light-hearted and loose effort quickly turned into a dense, introspective work following the tragic loss of Cambria's younger brother.  They started recording at their friend Jason Quever of Papercuts' living room studio in San Francisco.  The songs were given a certain warmth and intimacy that couldn't be achieved in a larger space.  The sense of comfort they found gave them the ability to fully realize the weight of the songs.  "In the Meantime" explores the desire for contentment in tumultuous times.  "High Without the Hope" bookends the album, illuminating the emotion and sense of loss that was felt throughout the recording process.
After spending weeks recording with Jason, the band felt they could work in a more open space.  They worked on the more celebratory and rhythmic songs in Los Angeles with Aaron Espinoza of Earlimart at the Ship recording studio.  "My Will is Good" and "Oslo Campfire" describe the liberation that follows in the wake of making active changes in one's life following tragedy.
Together these sessions create threadbare. Its become somewhat of a two sided record with dark, haunting, and at times meditative songs paired up with the untiring, somewhat aggressive and punchy anthems that Port O'Brien is becoming known for.  The last few years have seen many adventures for the band.  The creation of this record came with continuing changes both within the band personally, and sonically. Port O'Brien will continue to evolve. In the meantime, Threadbare stands as another mark this young band is leaving.