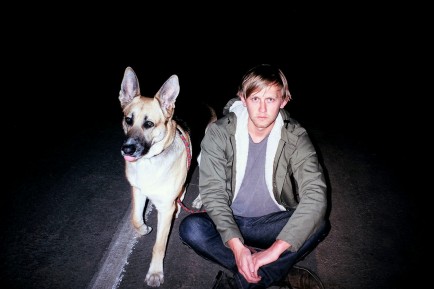 Spring 2010 saw the demise of Port O'Brien, and founding member/front man Van Pierszalowski needed a break from the hectic, wonderful mess that is touring. He stumbled into respite in Oslo, Norway, and spent some time away from making music. Van explored the new city, swam in the Norwegian fjords, enjoyed the weather and the experience of seasons changing. He found his bearings and fell in love again.
Inspiration arrived and as he wrote, Van was compelled to fuel the process further by changing his environment once more.  He spent most of the next year traveling: to Alaska, where he'd spent summers working on his father's commercial salmon fishing boat; to California, where he'd grown up in a seaside town off Highway 1; and eventually to New York, where in Brooklyn he endured relentless blizzards and a cold nearly reminiscent of Oslo.
Van gave his new project a name: WATERS. These new songs he wrote veered away from the frequently loose, punchy anthems of Port O'Brien, and as he intensively pieced each one together, he sought a bigger sound – something louder than he could play on his own.  So Van returned to Oslo, where his new journey had begun.  He put together a band of fine Norwegian gentlemen and spent every day of the next two months rehearsing in a small practice space outside of the city.
This band went with Van to Dallas, Texas, to record with producer John Congleton. Over a brief 10-day recording session in April, Congleton – who has worked on some of Van's favorite albums (by artists including St. Vincent, Bill Callahan, and yes, R. Kelly) – kept the production stark, maintaining the songs' intimacy and emotional intensity. Out In The Light has a louder, fuller, more aggressive and raw sound than any of Van's earlier works. It's a mix of fuzzy, pealing guitars and crashing drums, and easy, alternately soaring and languid, indelible melodies.
According to Van, "The record is about waking up. It is about getting out of a situation that seems endless, and realizing you're not too old to make dramatic and sudden changes in your life. It is about starting over."