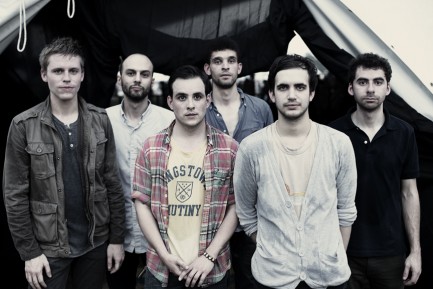 After spending the better part of two years on the road (including festival stops at Lollapallooza, Glastonbury (UK), Sasquatch, Monolith and tours with The Walkmen, Spoon, Richard Swift, The Cribs, White Denim and Tokyo Police Club) White Rabbits hunkered down in their Brooklyn practice space to set about re-envisioning the dark pop of their debut Fort Nightly, while adding new sounds and influences to achieve an original work.  The result is It's Frightening, their second full-length album.
White Rabbits signed to TBD Records (US home to Radiohead/Other Lives/Hatcham Social) and erected a makeshift studio in their basement rehearsal space to demo new material.  Band members popped in and out over the course of several months lending ideas and personality to a new batch of songs that defy instant categorization. After enlisting tourmate, friend and songwriter Britt Daniel (Spoon) as producer, the pair began the process of exchanging demos between Brooklyn and Portland.  White Rabbits recorded It's Frightening over the course of four weeks, only taking a break to play the Transmusicales Festival in Rennes, France.  The sessions were recorded by visionary engineer Nicholas Vernhes (Animal Collective, Deerhunter) at Rare Book Room in Brooklyn, NY.  Taking special care to recreate the unhinged nature of the original demos, the band utilized the wide range of tools in the analog-friendly studio to shape the personal spirit infused in the new tracks.  Upon the completion of tracking, White Rabbits traveled to Austin, TX to mix the record with studio wizard Mike McCarthy (Spoon, Trail Of Dead) using his exceptional ears to transform It's Frightening into a uniquely rewarding headphone experience.
It's Frightening plays like a classic reel of tape from start to finish. Opening with the visceral drums of "Percussion Gun," it is clear that time-off from the road has served the band well.  The many highlights include the emotional centerpiece "Company I Keep," the new sonic territory of "Lionesse" and the macabre lyrics of "Right Where They Left."  Fans of Fort Nightly will find much to go weak in the knees over and new listeners are in for an awakening as White Rabbits flip the switch on an already impressive beginning. It's Frightening is a journey into the playfully dark musings of Everyman.
The lineup : Stephen Patterson (vox/piano), Jamie Levinson (drums), Matthew Clark (drums, guitar), Alex Even (guitar), Gregory Roberts (guitar/vox).