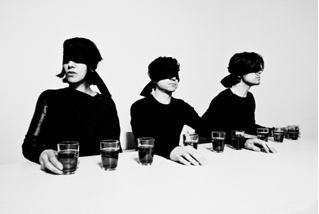 We're very excited to announce the much-anticipated release of Transit Transit, by Autolux. This enigmatic, Los Angeles-based trio whose debut, Future Perfect, was released to critical acclaim in 2004, has continued to captivate fans anxious for the evolution of their unique sonic aesthetic. Autolux's sophomore album, Transit Transit, will be released this summer, August 3rd, 2010 – on TBD Records (Radiohead, White Rabbits) in North America and Japan, and ATP Recordings (Built to Spill, Spiritualized) for the rest of the world.
Since they stopped touring in support of Future Perfect in 2006, Autolux has been steadily crafting the songs that make up Transit Transit, as well as continuing to play sold out shows to an ever-growing fan base and opening for a who's who of the music world – including PJ Harvey on her first solo tour of Russia, and more recently, Thom Yorke, with his latest project, Atoms For Peace. In September 2009, Autolux went on their first headlining US tour, which included an appearance at the Flaming Lips'-curated All Tomorrow's Parties.
Autolux (Carla Azar: vocals/drums, Greg Edwards: vocals/guitar. and Eugene Goreshter: vocals/bass) produced Transit Transit themselves with Edwards serving as engineer. It was recorded in the band's studio, Space 23, located near downtown Los Angeles. The album begins with it's title track, an utterly unique concussion of rhythm, created from a looped sample of an old freezer slamming shut and a simple round of chords from an upright piano. The hypnotic density of the vocals and organic futurism of the instrumentation instantly rearranges any preconceptions about the 'autolux sound'.  "Census" and "Supertoys" play like the logical evolution and refinement of Future Perfect, delivering propulsive grooves and atmospheric chord changes, while "Highchair" combines a simple, yet effective drum machine beat with tympani-esque tom overdubs to create an orchestral lo-fi dance track. There is a notable sonic progression throughout Transit Transit: vintage synthesizers and manipulated ambience glue central song components together, several tracks are built around piano, all three members take turns with lead vocals, harmonies are abundant, and there is even a bit of trumpet.  Ultimately, Transit Transit is propelled by its individual members' strengths, coalescing into beautiful, complex songs. Goreshter continues to innovate his bass style, effortlessly modernizing the instrument's melodic role, while still providing an on-edge rawness and groove-filled momentum.  Edwards' guitars serve to modulate the moods throughout the record, constantly evoking feelings found in the space between emotions.  And Azar's sturdy, creative drumming (a phenomenon to behold on stage) continues on record with plenty of hook beats – ferocious and delicate, at once.
Whether Autolux is a band you are just discovering, or if you are already a frantic fan, Transit Transit provides a deep and profound world in which to immerse yourself.
Autolux will be touring across the US and Canada this fall.  Dates will be announced soon.
Transit Transit track listing:
1. Transit Transit
2. Census
3. Highchair
4. Supertoys
5. Spots
6. The Bouncing Wall
7. Audience No. 2
8. Kissproof
9. Headless Sky
10. The Science of Imaginary Solutions