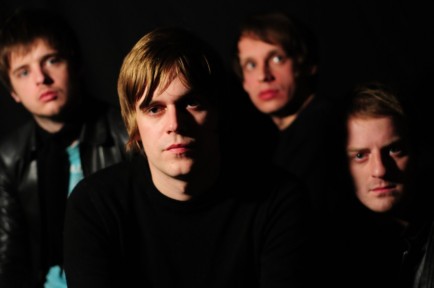 22-20s are a British rock band, originally formed in Sleaford, Lincolnshire, who disintegrated scarcely two years after their acclaimed 2004 self titled debut LP. In 2008, a reconstituted version of the band reformed around the founding nucleus of singer/guitarist Martin Trimble, bassist Bartup and drummer James Irving, adding Dan Hare on guitar and backing vocals.
Secretly touring the UK under the alias of one their new song titles "Bitter Pills," 22-20s showcased a wealth of radically new material ranging from the uptempo rock of single and digital live EP namesake "Latest Heartbreak" and album title track "Shake/Shiver/Moan" to the classic morning-after bluespop of "Let It Go" and "4th Floor."
The new lineup and broader musical horizons of 22-20s debuted with  Latest Heartbreak EP, released March 9 through tbd records (U.S. label home to Radiohead, Underworld, White Rabbits and others), featuring four tracks record live at last year in Reading UK.
Shake/Shiver/Moan, the first 22-20s album to feature the Trimble/Bartup/Irving/Hare lineup, will be released by tbd in the U.S. on June 22, and will feature the studio versions of the tracks from the live EP and six other brand new 22-20s numbers. The album's release will be preceded in the States by an extensive run opening for Band of Skulls and The Whigs' co-headlining tour and will be followed by further North American touring throughout the summer.